(WINCHESTER, ENGLAND): José is a forty-three years old homeless living in the shadows of Winchester, the former capital of England. He is afraid that one day he will have no reason to wake up in the morning.
He arrived from Madeira, Portugal sixteen years ago, with his girlfriend and her small son. What was supposed to be a quick visit to friends, turned into an unexpected job offer from a local magistrate.

The family decided to make their stay permanent.
While responsibilities and workload kept increasing, the pay stayed unchanged. What seemed to be an innocuous request for 50 pence more per working hour turned disastrous for José and his small family.
– It was denied, for sure. After nine years of hard work we were fired and thrown out – just like that.
HUNGER GAMES
Spending most of their saving money the family settled in a small apartment in Winchester. Jobs came and went for José, doing everything in his power to keep the family together.
They barely survived, until disaster struck.
– I was loading tires on to a lorry when some of the tires ran riot. I had no chance. One tyre fell on my back and another on my knee.
A local doctor tended to his injuries, but little was done - until it was too late.

José was marred for life.
– I waited for something to happen, to get some needed treatment. Finally I was called in, but the doctor told me the injury was to advanced to operate on. My cartilage and vertebra had grown out of position – a surgery would probably paralyze me.
Afraid of the consequences, José realized a life with a cane was preferable to life in a wheelchair.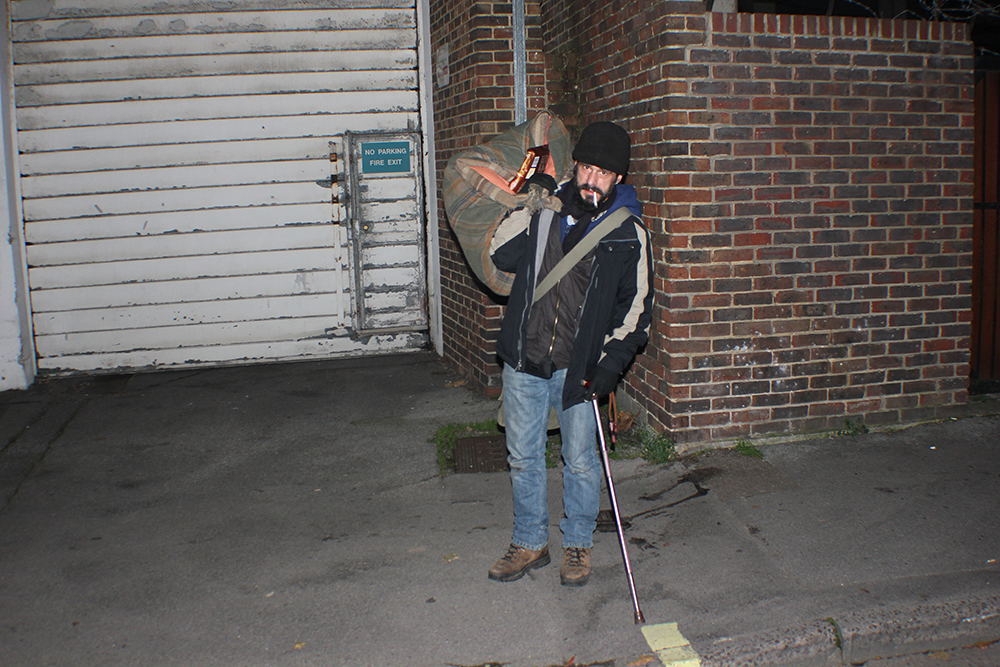 FAMILY FIRST
Making the toughest decision of his life, José asked his family to leave him – as he could promise them a future of nothing else than misery and poverty. They left José with an apartment he could no longer pay for, a physique indisposed to work and no insurance or rights to welfare. The future looked bleak.
His eyes start flashing rapidly and even though his hands are big and thick, they fail to stop years of adversity running down his cheeks.
– I lost my apartment a year ago and moved to the streets. I have a sleeping bag that gives little warmth during cold winter nights, but it helps me stay alive.
He shows me his bedroom. It is a tiny area by the entrance of a shopping mall. The mattress consists of cardboard boxes placed under a thin blanket.

FRIENDLY LOCALS
This morning he woke up at five, to the smell of fresh coffee, a sandwich and a cup of warm soup. Two elder ladies felt sorry for him the other day and decided to prepare a meal.
– The locals are fantastic – they are so helpful. We get the leftovers from a restaurant up the street, and there is a coffee bar that gives us coffee and water when we are cold and thirsty.
By "we" José means the homeless community of six. They check on each other every night before going to sleep; sharing stories and waiting for something better to happen. When everything seems lost and hopeless, José has a special place he can go to.
– I planted a tree in Basingstoke sixteen years ago. When I go there now it is so big. That makes me proud!
DIE ANOTHER DAY
Under the stone cold eyes of King Alfred (the great statue in the centre of Winchester) José taps his arm, preparing his body for a needle stick. Seconds after inserting some needed "fuel", his eyes drifts slowly away while his mind goes offline, entering some kind of hibernation mode.

Hopefully he will find a reason to wake up in the morning.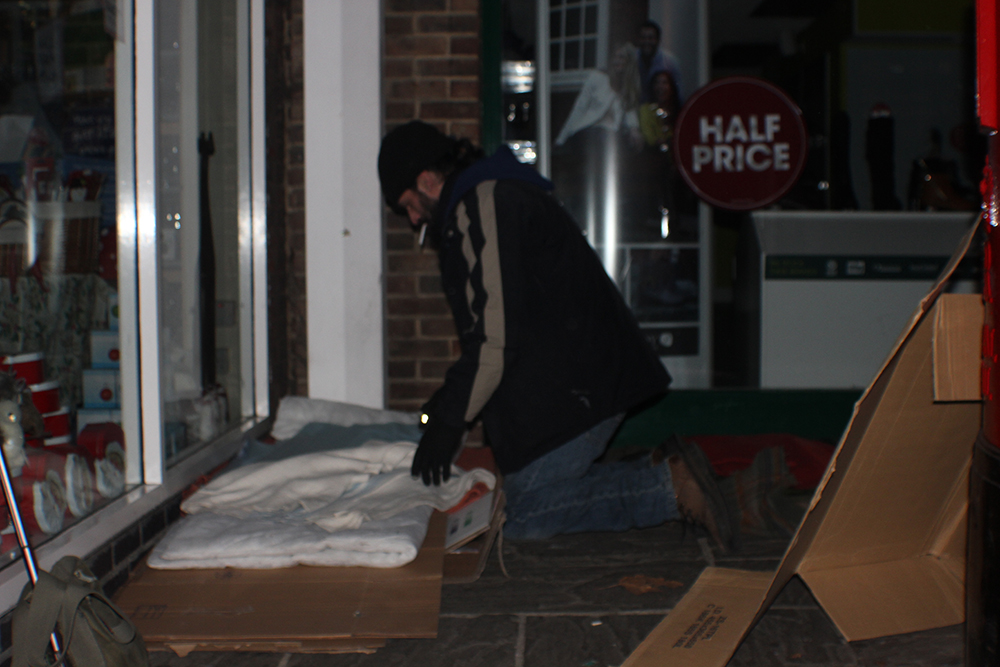 --- ---